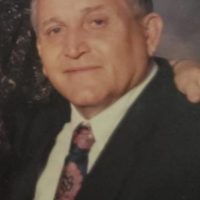 William Curtis "Billy" Bullard, age 86, of Baxley, passed away Monday, January 20, 2020 in The Pavilion.
Mr. Bullard was born August 4, 1933 in Ware County to the late William Curtis Bullard, Sr. and the late Lois Johnson Bullard.  He was a member of Woodlawn Baptist Church and was a veteran of the United States Army. Mr. Bullard was the owner & operator of Utopia Dry Cleaners.
Survivors include his wife of 61 years, Margaret Reese Bullard of Baxley; daughter & son in law, Barbara & Michael Aldridge of St. Augustine, FL ; son, Robby Bullard of Baxley; two grandsons, Nathan Aldridge of Alpharetta and Jonathan Bullard of Baxley.
Funeral services will be held Friday, January 24, 2020 at 2:00 pm at Woodlawn Baptist Church with Rev. Tommy Daniels & Rev. Larry Bullard officiating.
Interment will follow in Omega Cemetery.
Active pallbearers are Billy Reese, Danny Jones, Terry Reese, Al Meadows, Chuck Martin & Brian Medders.
Honorary pallbearers are Dr. Errol G. Graham & staff of the Pavilion & members of Woodlawn Baptist Church.
Visitation will be one hour prior to the service at Woodlawn Baptist Church.
Remembrances may be made to Woodlawn Baptist Church Building Fund P.O. Box 206, Baxley, Ga. 31515.
Arrangements are under the direction of Swain Funeral Home.