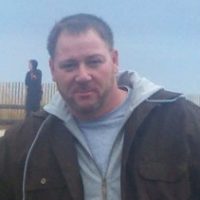 Joseph John McNamara, Sr., age 49, of Douglas passed away Wednesday, October 16, 2019 at Memorial Health University Medical Center in Savannah.
Joseph was born November 27, 1969 in Trenton, NJ to the late Patrick Allen McNamara and the late Dorothy Connor McNamara. He was employed with Triple O Enterprise and was a member of Dunn Memorial Baptist Church. He was a great role model and would give a helping hand to anyone in need. Joseph was always a jokester and loved to fish and play poker. Joseph's main goal in life was to care for his children and make sure their smiles lit the room.
In addition to his parents, he was also preceded in death by a sister, Patricia McNamara.
Survivors include his sons, Patrick Carter of Baxley, Joseph McNamara, Jr. and Charlie McNamara both of Douglas; daughter, Casandra Lopez of Douglas; sisters Katherine Adubato and Virginia Adubato-Ramos both of New Jersey and Melinda Albritton of Baxley; and a brother, John Adubato of New Jersey. Two grandchildren & several nieces and nephews also survive.
Memorial Services will be held Sunday, October 20, 2019 at 3:00 p.m. in the Chapel of Swain Funeral Home with Rev. Rick Brown officiating.
Arrangements are under the direction of Swain Funeral Home.