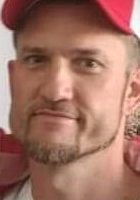 Stephen Matthew Kauger, age 40, of Surrency died Monday, February 25, 2019.
Stephen was born June 18, 1978 in Waycross, Georgia and was a Truck Driver. He was preceded in death by his grandparents, Serge & Evelyn Kauger, Mack R. Williams and Zettie Mae & Joe Stone.
Survivors include his son, Kaden Matthew Kauger of Surrency; parents, Steve & Maxine Kauger of Surrency; brother & sister in law, Jason & Bobbie Sue Kauger of Surrency; two nieces, Mahle Kauger & Mallory Kauger both of Surrency. His best and lifelong friend, Gary W. Covington of Baxley.
Funeral services will be held Friday, March 1, 2019 at 3:00 p.m. in the Chapel of Swain Funeral Home with Rev. Rick Brown & Rev. Lamar Lee officiating.
Interment will follow in Graham United Methodist Church Cemetery.
Active Pallbearers will be Michael Crosby, Garret Crosby, Noe Guerra, Gary Covington, Colby Covington and Michael Perry.
Visitation will be one hour prior to the funeral service.
Funeral arrangements are under the direction of Swain Funeral Home.