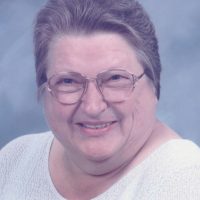 Eunie E. Andrews, age 81, of Hazlehurst, passed away Tuesday, October 30, 2018 at Community Hospice in Vidalia.
Mrs. Andrews was born October 27, 1937 in Royston, Georgia to the late Anderson Nathaniel Hill and the late Pearl Carlton Hill.  She was a member of Woodlawn Baptist Church.  Mrs. Andrews was an avid Atlanta Braves Fan and a homemaker.  She was preceded in death by her husband, Sammie Lee Andrews, Sr.
Survivors include her daughters & sons in law, Vickie & Pete Rizzardi of Fernadina Beach, Florida and Kathy & Paul Graham of Hazlehurst; sons & daughters in law, Sammy, Jr. & Nancy Andrews and Joey & Judy Andrews all of Hazlehurst; sisters, Myrtle Chasteen of Brunswick and Betty Nell Frost of Waynesville; brothers, Boyce Hill of Lyons and Andy "Junior" Hill of Brunswick. Seven grandchildren & eight great grandchildren also survive.
Funeral services will be held Friday, November 2, 2018 at 2:00 p.m. in the Chapel of Swain Funeral Home with Rev. Joey Andrews and Rev. Royce Hulett officiating.
Interment will follow in Rose Hill Cemetery in Alma.
Active pallbearers will be Glenn Pearce, Robby Lee, Chris Nail, Donnie Lewis, Jimmy Twiggs, Kendall Medders, Jason Taylor and Pete Rizzardi.
Honorary pallbearers will be Wendell Crosby, Ed Lashley, Jimmy Lee Williams, Duane & Linda Brooks, Glenda Crosby and Marlin Altman
Visitation will be Thursday evening 6-8:00 p.m. at Swain Funeral Home.
Arrangements are under the direction of Swain Funeral Home.